Class of 1970
Wichita

High School

West - Home of the Pioneers
'70@70 Reunion Overview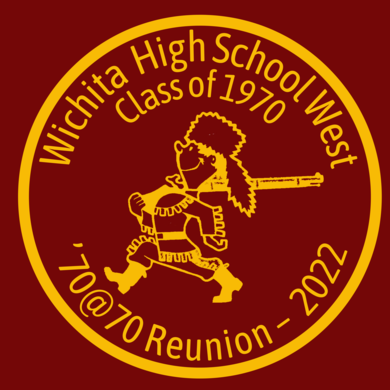 October 20 - 22, 2022
Please Sign In to Website to Register
Greetings, Class of 1970!
Welcome to the registration page for the '70@70 50th Anniversary Reunion of the Wichita High School West Class of 1970! Our reunion is scheduled for October 20-22, 2022. Our '70 classmates are turning 70 years old this year, and since we had to postpone our original 50th reunion, we decided to call this one the '70@70 Reunion.
Please read through the information below, then REGISTER at the top of this page. We need counts of people planning to attend each activity - so, PLEASE register for EACH activity in which you are planning to participate. If you need assistance with registration or have any questions, please use the 'Contact Us' button on the home page to reach out for help.
Please join us at this special reunion, whether it's your first reunion or you've attended many before. No matter what - this is the Big One - our 50th! We want as many classmates to attend as possible. And we want folks to get reacquainted, tell stories about their high school days, and enjoy the food, music, and dancing. Visit with your classmates from elementary, junior high, and high school and take home good memories of this special event. We hope you can come!
Because of privacy concerns, we will not be publishing a class directory anymore. Our website, wichitahighschoolwest1970.org, allows classmates who have joined to contact others who have joined without sharing contact information. That's one of the benefits of joining the website! You can also post photos, especially candid shots from this upcoming reunion, on the website as well.

We hope to see you in October!
The '70@70 50th Reunion Committee
COST: $19.70 per person!
As you know, our 50th reunion was postponed from October of 2020 due to the pandemic. The reunion committee had already asked classmates to donate to the reunion fund to help offset expenses, which we will now use for this belated reunion. Thanks to those donations, we were able to keep the cost of the reunion to $19.70 per person. Get it? Class of 1970 = $19.70 per ticket! Because we are able to offer such a low price for the entire reunion, there will be no option to pay for only a single night's events. We have checked other reunion websites, and most are charging $50-$80 per person!
All events (except golfing and Pickleball) are included in the $19.70 ticket price!
YOU MUST PURCHASE AN ALL ACTIVITIES TICKET TO ATTEND ANY EVENT
PAYMENT. You may pay online with a credit/debit card or send us a check. Either way, you need to register (see above). Sending your payment by check saves us 5.9% in card fees. If you pay via credit card you will receive a receipt via email. If you pay by check you will receive an email with mailing instructions and later your receipt via email. Deadline for mailing checks (so that we receive them by the cut-off deadline): Monday, October 10. Deadline for paying on-line: Sunday night, October 16. THESE DEADLINES ARE FIRM! No walk-up registration / payments will be accepted. All reunion registrations must be paid in advance in order to get an accurate count for food and events. Thank you for your understanding.

REUNION ACTIVITIES

Ghoulish Gathering Reunion Pre-Party - Thursday, October 20
Cindy and Marty Miller's Home
148 Courtleigh Street
6:00 to 10:00 PM
Classmate Cindy (Donnell) Miller and husband Marty Miller (WHS '68) have offered to host a pre-reunion get together at their Halloween-decorated home. It's a chance for to visit before the main reunion begins on Friday night. Her house will be fully decorated for Halloween!
BYOB
Soft drinks, apple cider and water provided.
Hallo-wienies and snacks provided; bring a treat if you so desire.
All are welcome! Costumes are not required, just your smiling faces!
Friday Night Mixer - October 21
Side Pockets
614 S Tyler Rd
6:00 to 10:00 PM
We have reserved the Brass Tap Room. Cash bar. Appetizers provided. Background music - Oldies Mix by classmates Doug Kutilek and Roger Baugh.
Get reacquainted with former classmates and visit with friends you used to hang out with - or still do! - at this casual mixer - a great event to wear your reunion T-shirt.
Saturday Morning at West High - October 22
West High School
820 S Osage
8:45 to 11:00 AM
There will be an open house and tour of the new Athletic Hall of Fame and J Fred Cramm Hall of Distinguished Alumni, as well as a tour of the school for those interested. Coffee and pastries will be served.
Golf - Friday, October 21
Golf Course - Arthur B Sim
Address of Golf Course - 2020 West Murdock Street
Time: 11:00 AM - First Tee Time is 11:15
Pay your own green fees.

Pickleball Outing - Saturday, October 22
Pickleball Court - Ralph Wulz Riverside Tennis Center
Address of Court - 551 N Nims
Time: 1:00 - 2:30 PM
FREE - court fees have been paid by others
Saturday Evening Banquet - October 22
Botanica
701 Amidon Street
6:00 to 10:00 PM
We have reserved the South Terrace Room. Dinner will be a catered buffet. The menu includes: salad with choice of dressings, beef tenderloin, chicken, shrimp, salmon, roasted potatoes, Italian green beans, and a '70@70 cake. Cash Bar. Short program after dinner, followed by dancing and listening to Oldies '60s music provided by a DJ. Dress is business casual.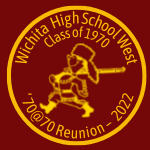 OTHER INFORMATION

Cancellation
Due to uncertainties in our world, the reunion committee reserves the right to cancel the reunion. Notice of cancellation would be by email (to the email address you used to register for the reunion) and by a post on this website. A cancellation notice would be provided on or before Friday, September 30. A refund, less 10%, will be returned or mailed to all registered participants by Friday, October 14. Individuals may also cancel their registration before Sunday, October 16.

Flowers
We would like to acknowledge Lindy Hood and Dena Robinson of the Class of 1972 for putting us in touch with Susie Heeb Tarrant, Class of 1969, who is letting us borrow lovely silk fall mums for our table centerpieces. Thank you, Susie!

Professional Photographer
A professional photographer will be on hand Friday and Saturaday evenings. Photos will be available to download at no additional cost to class members.

Souvenir Mugs
A classmate has donated funds to purchase maroon and gold mugs for each 1970 classmate who attends the reunion. Your mug can be picked up at either the mixer or the banquet. When you register, indicate whether or not you would like a mug.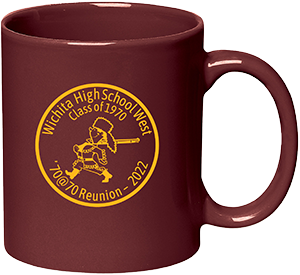 Class Gift
The Reunion Committee encourages you to make a donation to the Assistance League of Wichita's Scholarship Fund and when doing so check the box "Wichita West High School Alumni Class of 1970."
Click Here to Learn About the Assistance League
Click Here to Learn About the Scholarship Program