Class of 1970
Wichita

High School

West - Home of the Pioneers
In Memory
Stanton Earl Matlock VIEW PROFILE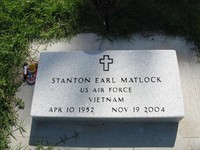 April 10, 1952 - November 19, 2004
Stanton "Stan" Matlock
Stanton Earl "Stan" Matlock, 52, of Wellington, Kansas died Friday morning, November 19, 2004 at Sumner Regional Medical Center in Wellington, Kansas.

Stan was born the son of William E. Matlock and Pauline (Byfield) Matlock on April 10, 1952 in Wichita, Kansas. They both preceded him in death.

Stan has always been an avid sports fan and cheered for too many teams to list. Besides being a fan, he loved to participate in many different sporting activities and stayed very athletic. Stan really enjoyed participating in rugby and made many friends during his playing days. He also competed in numerous tri-athalons and river runs.

When he wasn't busy with sports, Stan enjoyed woodworking and collecting woodworking tools. He would also spend some of his free time fishing with family and friends.

Survivors include his sons; Scott Matlock of Broken Arrow, Oklahoma, Shawn Matlock and his wife Laura of Edmond, Oklahoma, and Samuel Matlock of Wellington, Kansas, daughter Jennifer Matlock of Oklahoma City, Oklahoma; brother Bill Matlock and his wife Rose of Aurora, Illinois; sister Sharon McGill and her husband Dave of Emporia, Kansas; 5 grandchildren; Jasmine Derrick, Colby Gonzales, Caleb Matlock, Kyle Coffing, and Alexis Joy; along with numerous nieces and nephews.

Funeral services for Stan will be at 10:30 a.m. Tuesday, November 23, 2004 in the chapel of the Day Funeral Home, Wellington, Kansas. Pastor Phil Wylie of the First Southern Baptist Church, Wellington, Kansas will officiate.

Interment will follow in Prairie Lawn Cemetery, Wellington, Kansas. Full Military Honors will be given by the United States Army, of Fort Riley, Kansas.
Click here to see Stanton Earl's last Profile entry.