Class of 1970
Wichita

High School

West - Home of the Pioneers
In Memory
Michael Dean Morgan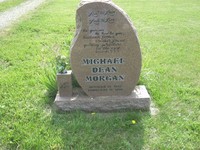 October 16, 1952 - February 11, 1996
Rocky Mountain News (CO) - February 26, 1996
Deceased Name: MICHAEL DEAN MORGAN
MICHAEL DEAN MORGAN, 43, of Berryton, Kan., formerly of Colorado, died Feb. 11. Graveside services were Feb. 14 at Pleasant Hill Cemetery in Berryton. Mr. Morgan was born in Wichita, Kan., on Oct. 16, 1952. He worked at the cog railway on Pikes Peak for eight years and most recently for the state of Kansas. He was a member of several antique Harley Davidson Motorcycle clubs. Survivors include his wife Jancy; son Jason of Kansas; mother Rogene of Texas; brothers Gene of Kansas, Pat of Texas; sisters Frankie Parker of Denver, Ginger Brandon of Littleton, Vickie Leon of Texas, Denise Lees of Kansas.
Note from Mike's wife:
To the Class Members of Michael Dean Morgan: I received the invitation for the 2010 Class Reunion and it saddens me to report that Michael Dean Morgan has passed away. He was an absolutely wonderful person, as any of you who knew him are fully aware. He was alway passionate about his faith, right up to the very last words he spoke - and there was no doubt that Michael was comfortable with his passing and where he was going from here. Mike was a wonderful father to our only son, Jason (born in 1974), sharing his motorcycling with him and gifting him with the first antique Harley Davidson Flathead 45 that he ever restored, as a High School graduation present. Mike restored antique Harley Davidsons and rode them daily for others to enjoy, in addition to '57 Fords - all models from that year. Michael loved horseback riding and raising Quarter Horses, rescuing Irish Wolfhounds, raising Teacup Chihuahuas and collecting a menagerie that included everything from Blue Turkeys to Black Shoulder Peacocks and a couple of Pot Belly Pigs. And Michael loved snakes. He was also a gifted artist, utilizing that talent in the art service we established while living in the Pike's Peak region of Colorado during the '70's. After moving back to Kansas, he worked for the State of Kansas at the University of Kansas in Lawrence.

He was also a talented musician, a cherished brother, a loving uncle - the list goes on and on. And he was the most wonderful husband that anyone could ever hope to have - only I was lucky enough to be the one he chose to share his life with. He is missed.