Class of 1970
Wichita

High School

West - Home of the Pioneers
In Memory
Debbie Fernz (Spears)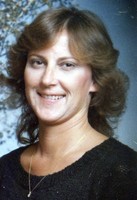 December 28, 1952 - December 29, 2010
Obituary:
Deborah S. (Fernz) Spears, lost her battle with "Leukemia" on December 29, 2010, in Barnes Jewish Hospital in St. Louis, MO. She was born on December 28, 1952, in Philadelphia, PA. Survivors: husband, Larry Spears; son, Matthew Beddow; parents, James and Dolores Fernz; brothers, James, David, and Jay Fernz, sister, Diane Brock; and nieces and nephews. She moved to Wichita in 1965. She was living in Sand Springs, OK at the time of her death. She graduated from West High School in 1970 and WSU in 1985. She worked as a Mfg. Rep for The Models and Tools Co. She serviced the aerospace industry across the nation and was also well-known in the music communities of OK and KS. She will be missed by all. Services will be 12 p.m., Thursday, January 6, 2011, at Camp Loughridge, 4900 W. 71st, Tulsa OK 74131. This obituary was published in the Tulsa World on 1/6/2011.


Email from Debbie, July 2010:
Dear classmates,
MY name is Debbie FERNZ or was in 1970. I am now known as Debbie Spears.
i live in Tulsa, OK with my husband Larry Spears to whom i have been happily married to since 1994.
I work for a company in Michigan out of my home in Tulsa as their new business development and sales representative and have held this
position since 1990.
Unfortunately, I cannot attend this years reunion. I was recently diagnosed with AML leukemia and was admitted on Tuesday, July 13th to
Barnes-Jewsih hospital in St. Louis, MO for a two clinical trial treatments as well as the standard chemo therapy. I will be hospitalized for at least another 4 weeks,
but probably longer as none of my siblings were direct donor matches. I am dependent upon the national bone marrow bank for a generous soul to help me find a cure.
Hope all of you have a great reunion-- The class OF 1970! I wish you all the best.
Things seemed so much simpler then than now.

Please post this information on the Wichita WEST HS 1970 reunion web site.