Class of 1970
Wichita

High School

West - Home of the Pioneers
In Memory
Brockie Sue Anderson (Headrick)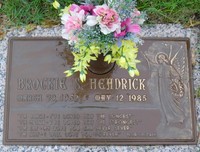 March 29, 1952 - May 12, 1985
Obituary:
In Jim Headrick's comfortable Wichita ranch house off Maize Road, there is no gloom, bitterness or anguish to suggest that a family is mourning the death of a young wife and mother.
Rather, the Headricks, a Catholic family, say they are at peace with the death Sunday of Headrick's wife, Brockie. They are relieved that her suffering from melanoma, a cancer, is over; they are glad - and struck by the irony - that she died on Mother's Day, with a bishop at her side.
And they are content with the knowledge that they had the time and foresight to tell Brockie how much she meant to them, and to discuss with her, indeed to plan, how they would cope after she died.
''I THINK our prayers are answered," Jim Headrick said Monday. "We're sad for her loss but we're happy for the way it turned out." Reflecting on a series of cassettes and videotapes Brockie had the family make together before she died, Headrick added, "It was kind of her way of giving us something to have forever."
The family on Monday sat in their kitchen discussing Brockie's life and death in good cheer, and showed the tapes of the family spending time together just weeks before she died.
They had recorded conversations about what they'd gone through together, and what it would be like raising a family without her.
On one taped audio cassette, the family sat in the living room and each member recalled their favorite moment together.
Brockie remembered how after the large congregation at St. Francis of Assisi Catholic Church split in two, she and her family started out with their new parish, St. Elizabeth Ann Seton Church.
THE NEW church's pastor asked all the children to stand on the altar, so there would be enough room in the pews for the adults.
''She remembered that that was the epitome of our family," said Jim Headrick. ". . . The church was small and cozy. From that day on we were very involved with the parish."
In other tapes, he said, "Her only comments were, 'What will happen to the children and you?'
''But I said for all practical purposes the children are raised, their values and principles and religion are established."
As Brockie deteriorated physically after a biopsy taken in April showed she had melanoma, the family made an effort to avoid falling apart.
SHE CAME out of the hospital in April to attend her daughter Amy's first communion, and that afternoon the Headricks sat around at a friend's home videotaping a reception that followed the affair.
''We had that weekend together - it was the last time," Jim Headrick recalled Monday. "She came home for 48 hours. She sort of sat around quietly, and we brought out a girl to wash and cut her hair. And a girl came out to take pictures - Brockie had set it up months beforehand."
The weekend of Amy's communion, Brockie's family sat down and taped their conversation. "We went up in the bedroom and took out a cassette recorder and talked about a lot of things," Headrick said.
''Mostly about the good times and how this is is the way it's got to be, and that the kids should remember what she taught them. I guess you could call it philosophizing. It's got to be weird for her. She knew she was going to die." At 33, Brockie was, above all, a proud and devoted mother of four, and Headrick said it was fitting that she died on Mother's Day.
BROCKIE'S MOTHER, Ruth Anderson, said her daughter wondered aloud as a young girl why she had to bother with things like piano lessons - since all she ever wanted to be was a mother.
Recalled Father Robert Kocour, Brockie's pastor at St. Elizabeth Ann Seton: "I heard Jim say to his children as we were walking out of the hospital that she died on Mother's Day so that we'd always remember her."
In her final weeks, Brockie was moved from Riverside Hospital to the oncology department at St. Joseph's Medical Center.
Volunteers from her church brought a cot to her room and stayed with her around the clock, allowing her husband, an executive director with Godfather's Pizza, to spend time with the children outside the hospital.
The congregation even held a 24-hour prayer vigil for Brockie the weekend of April 27.
''EVERYBODY REALLY turned out," said Kocour. ". . . Brockie is a great personality. She's a bit of a dynamo here in the parish. When anything was going on, Brockie was there."
Sunday, Jim Headrick watched Amy perform in a gymnastics recital at Northwest High School and afterwards decided to see Brockie alone.
He went to the hospital, asked Brockie's visitors to leave for a few hours and hung a sign on the door telling everybody but priests and nurses to stay away until 8 p.m.
Around 6 p.m., Bishop Eugene Gerber, who taught Jim Headrick at Bishop Carroll High School in the early 1960s, stopped in unexpectedly. He said he had been meaning to visit for several weeks, but didn't get around to it until Sunday.
''I visit the sick whenever I can," Gerber said Monday, "but what was different here was the way I was drawn to visit the Headricks' at that time.
''SOMETIMES YOU find out you're in the right place at the right time and you're not quite sure why, and you don't realize it till later on."
Said Jim Headrick, "We'd been praying for a miracle for a month, and while we didn't get the one we wanted, we were kind of in awe last night."
The rosary for Brockie Headrick is at 7:30 p.m. today, and the service is at 11 a.m. Wednesday. Both will be at the St. Francis of Assisi Catholic Church. Besides her husband and daughter, she is survived by sons Vincent, Brian, and Jay, all at home; parents William and Ruth Anderson of Wichita; and brothers, William Anderson III of Lake Havasu City, Ariz., and Brent and Brice Anderson of Wichita.
A memorial has been established with the St. Elizabeth Ann Seton and Holy Family Center Building Fund. Resthaven Mortuary is handling the arrangements.
Caption:
PHOTO: (1) Brockie Headrick's family is happy they had time to
tell her how much she meant. (2) In this family picture at their home,
Brockie and Jim Headrick pose with their children. They are, from left,
Vincent, 13, Amy, 7, Jay, 10, Brian, 11.