Class of 1970
Wichita

High School

West - Home of the Pioneers
In Memory
Peggy Sue Burmeister (Wolfe)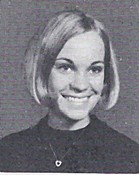 March 2, 1952 - November 23, 2007
Obituary:
Peggy Sue Wolfe, 55, of Manhattan, died Friday, Nov. 23, 2007, at the Mercy Regional Health Center following an extended illness.
The family provided some of the following information:
She was born on March 2, 1952, in Wichita, the daughter of Louis M. and Ellen E. (Ira) Burmeister. Her father preceded her in death in 1976.
Peggy was raised in Wichita where she was a 1970 graduate of West High School. In 1979, she earned her bachelors degree in home economics and later earned her master's degree, both from Kansas State University.
Peggy was a teacher at Junction City High School and was the department head of Family and Consumer Science. She previously had taught at Riley County High School for many years.
Her memberships included the University Friends Church in Wichita and the Kansas Association for Career and Technical Education. She attended church on occasion at the Trinity Presbyterian Church in Manhattan. Peggy's main interests were her home and family. She also loved to travel, golf, sew, horseback ride and snow ski.
On Dec. 30, 1978, in Wichita, she was united in marriage to Larry Wolfe. He survives of the home. Also surviving are two daughters: Becki S. Lindsay and her husband J.J., and Michelle Wolfe, all of Manhattan; her mother, Ellen Burmeister, of Manhattan; a brother, Larry Burmeister, and his wife Laurie Hatch, of Lexington, Ken.; sister-in-law, Connie Pauley, of Chanute, and her-father-in-law, Marvin Wolfe, also of Chanute. She was also looking forward to the birth of two grandchildren this coming year.
The family will receive friends during a visitation from 7 until 8:30 p.m. on Monday at Yorgensen-Meloan-Londeen Funeral Home.
Funeral services will be held 10 a.m. Tuesday, Nov. 27, 2007, at the Trinity Presbyterian Church, 1110 College Ave., Manhattan, with Rev. Kevin Larson officiating. Graveside services will be held at 3:30 p.m. Tuesday at the Stafford Cemetery in Stafford.
On-line condolences may be left for the family through the funeral home website located at
www.ymlfuneralhome.com.