Class of 1970
Wichita

High School

West - Home of the Pioneers
In Memory
Gerald Lee Dreiling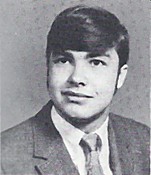 February 4, 1952 - July 6, 1996
Obituary:
Wichita Eagle, The (KS) - July 7, 1996
Deceased Name: Dreiling, Gerald L.
Dreiling, Gerald L., 44, furniture dealer, died Friday, July 6, 1996. Privite Services.
Survivors: son, Jerod of Wichita; parents, Gerald and Martha of Wichita; grandparents, Lydia Walton of Wichita, Wendell of Haysville; brothers, Gary of Viola, Steven of Wichita; sister, Sharon Shrewsbury of Wichita. Broadway Mortuary.