Class of 1970
Wichita

High School

West - Home of the Pioneers
In Memory
Michael Allan Stipp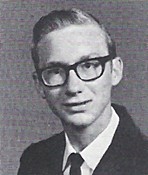 November 22, 1952 - March 15, 2005
Wichita Eagle, The (KS) - March 18, 2005
Deceased Name: Stipp, Michael A.
Stipp, Michael A., 52, Cessna Aircraft Six Sigma team coordinator, died Tuesday, March 15, 2005. Visitation 2 to 8 p.m. Thursday, Hillside Funeral Home West; service 10 a.m. Friday, Asbury United Methodist Church; burial in Maple Grove Cemetery. Preceded in death by father, Elmer Stipp; grandparents, Otis and Pearl Stipp.
Survivors: wife, Susan Stipp of the home; son and spouse, Travis and Andi Stipp of Wichita; daughters, Heather Stipp of Overland Park, Jennifer Stipp of Sedalia, MO; mother, Pauline Stipp of Wichita; grandmother, Della Anthem of Woodward, OK; grandchild, Hannah; brothers, Darrel Stipp of Wichita, Daniel Rountree of Colorado Springs, Co; favorite dog, Dakota. Memorials to Grace Point United Methodist Church, 11910 W. Pawnee, Wichita, KS 67215. Hillside Funeral Home West - 943-2929 Published in the Wichita Eagle from 3/17/2005 - 3/18/2005.
Served in Viet Nam conflict as a Sgt.