Class of 1970
Wichita

High School

West - Home of the Pioneers
In Memory
Martha (Marty) Kester (Pettit)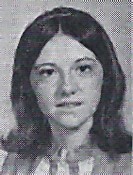 August 25, 1952 - April 4, 2003
Wichita Eagle, The (KS) - April 6, 2003
Deceased Name: Pettit, Martha E.
Pettit, Martha E., Raytheon Aircraft human resources specialist, died Friday, April 4, 2003. Visitation with family 6 to 8 p.m. Tuesday, Hillside Funeral Home East; service 1 p.m. Wednesday, Glenn Park Christian Church.P receded in death by parents, John and Nellie Kester. Survivors: husband, Kenny Pettit of Wichita; daughters, Barbara Williams, Angela Moss both of Wichita; brothers, John Kester Jr. of Joplin, MO., Frank Kester of Leavenworth; sisters, Marie Shoemaker of Clearwater, Diana Crossfie ld of Claflin, Margaret Ritthaler, Barbara Uzzaman, Bridget Cozad all of Wichita; grandson, Austin Pettit; 14 nieces; six nephews. Memorial to Victory in the Valley, 917 N. Market, Wichita, 67214.
Posted by: Becky Janzen
I grew up with Marty Kester. When we met at age 3, our houses were not far apart -- just across the street from Lincoln Elementary School in Wichita. Her family later moved a few blocks away to Emporia Street, but our friendship continued until her death in April 2003 of AML Leukemia. We swam on the Lincoln Pool swim team, spent summers together at Hamilton Jr. High in the recreation program, and were even in a skit for Show Wagon with Wichita Parks and Rec. We used to play Monopoly for HOURS! I was a bridesmaid in her wedding to her husband Kenny Pettit. She attended Lincoln Elementary, Hamilton Jr. High, and sophomore and junior years of West High. She moved to Clearwater, Ks. after her junior year and graduated in 1970 from that school. She married her sweetheart Kenny a few years later.
Kenny wrote a tribute to Marty, and I have included some excerpts from it below. He does not mention it, but the bone marrow drive that was held for Marty helped add new Native Americans to the bone marrow registry, and that is truly her legacy. Marty's father's heritage had some Native American in it, which made it difficult to find a bone marrow match as there were not many Native Americans in the registry at that time. Now there are many more who will benefit from this drive, even though no match was found for her.
Excerpts from Kenny Pettit's Tribute

On April 4th, 2003, we lost my beloved wife of 30 years to cancer. Marty touched many lives in a positive way during her Christian journey here on earth. Those of us who knew her best still testify to her kindness and hospitable actions which made those of us around her feel welcomed. Marty's 50 years here exemplified loving and caring attitudes which became contagious to her family members, friends and co-workers. She loved the Lord and she put the needs of others before her own. Many of us still treasure the gems of precious memories she left us and her legacy lives on. This letter of thanksgiving to each of you is my reflection of various events that happened as the Lord displayed His love, grace and mercy towards our family, even during the storms of life.

About 8 months before Marty's death was when we first learned of her illness. Early thereafter, we felt overwhelmed with confusion and disappointment. She was so vibrant and peppy that we referred to her at times as "Super Woman." Marty and I had full intentions of growing old together and we planned to "smell the roses" as grandparents. Now we were faced with a totally unexpected "fork in the road" that at first left us shocked and dismayed. Marty had given me so much joy and happiness, and we could rejoice in our 30 years of marriage. Together we raised our two wonderful daughters Barbara and Angela and cherished our grandson Austin. The Lord blessed us with a happy marriage, a warm home, successful jobs and so much more.
Like an ultimate warrior, she went way beyond what was asked of her by her medical staff, and was a model patient during her hospital stays. Whether it would be a key doctor, a nurse, an attendant cleaning her hospital room, Marty expressed her thankfulness, warm-heartedness and good cheer towards them. Soon, many of these same people were checking on her on days that they were not even working in her section.
During these same eight months came the flooding of people way beyond our expectations who rallied behind Marty as they learned of her illness. Concerned good Samaritans came forward with prayers, cards, letters, visits, phone calls, gifts, e-mails, meals, and much more. The prayers for Marty spread to other states and countries through family, friends, churches, Bible study groups, e-mails, word of mouth and so on.
After the International and National bone marrow search did not find a match for Marty, we conducted a proactive drive for her in Wichita. The response was absolutely incredible. Volunteers were plentiful, wanting to help. Local media including television, radio and newspaper coverage was helpful. Businesses and individuals gave generous contributions that enabled this drive to be possible. Marty was able to look out her hospital room that day and see the busy parking lot across the street where this drive was being conducted for her and was deeply touched. About 275 new bone marrow samples were added to the registry that day [note: mostly Native Americans] which could save lives in the future. We would also like to thank each one of you who gave your time and efforts to make this drive such a splendid success.
On April 4th, 2003 the Lord tenderly placed His everlasting arms around Marty and took her with Him to her Heavenly home. Many of us still miss the warm smiles and caring actions that she daily shared with us. Marty was totally aware of that as evidenced in a special card she prepared for me to read, only after she died. This is the last paragraph she wrote me and I would like to share it now: "We will meet again, and I will be waiting at the pearly gates to meet you. Then we will be in eternity together forever. Don't ever forget how much I love you! Until we meet again. Love Marty."
Kenny Pettit