Class of 1970
Wichita

High School

West - Home of the Pioneers
In Memory
James Travis Dye (Business Teacher And Vice-Principal)
James Travis Dye
14 Jul 1913 in Everton, Missouri - 30 Apr 2005 in Shawnee Mission, Kansas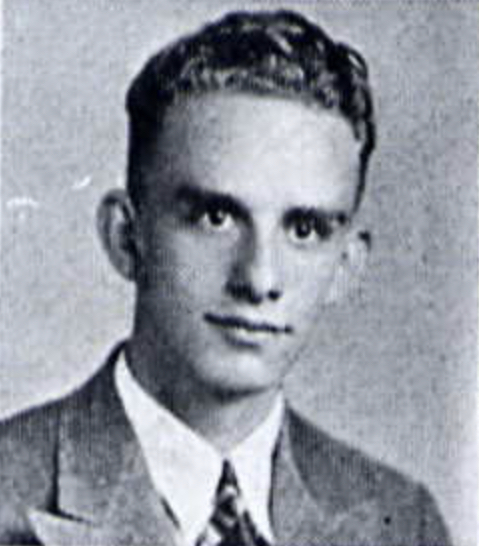 James Travis Dye was born on July 14, 1913 in Everton, Missouri to James Albert and Margaret May (née Wilson) Dye. He graduated from Southwest Missouri State Teacher's College in 1934. On December 31, 1941 he enlisted in the US Army and served until June 4, 1946.
Mr Dye joined the Wichita West faculty in 1953 as head of the Business Education Department, having previously been a Business Education teacher at Wichita East. At the beginning of the 1956 - 1957 school year he became Vice-Principal, a position he held until the end of the 1967 - 1968 school year. After leaving West he held positions of Principal at Marshall Middle School and Robison Junior High.
His obituary:
Dye, James T., 91, retired Wichita Public School System, blessed with a long life well lived, passed away Saturday, April 30th. Jim's humble and dignified manner, keen sense of humor and extreme thoughtfulness towards others will linger always with the family and friends whose lives he touched. He was a true gentleman in every sense of the word. The mischievous sparkle and the twinkle of life's joys reflected in his eyes are exemplified in the night stars. "In one of the stars I shall be living, In one of them I shall be laughing, And so it will be as if all the stars were laughing when you look at the sky at night." -The Little Prince. Survivors: daughters, Jill Doyle of San Antonio, TX and Jan Riss of Mission Hills, KS; son, Dr. James R. Dye of Independence, MO; fifteen grandchildren; one great-grandchild. Because of Jim's love of the garden and compassion for mankind, the family has requested in lieu of flowers, that contributions be made to the: Kansas Community Gardens, 6917 Kensington Ave, Kansas City, Missouri 64132-9808; or the charity of your choice. A celebration of Jim's life will be held at noon, Tuesday, May 3rd at Mission Chapel Mausoleum, 3424 E. 21st. Downing and Lahey East Mortuary.