Class of 1970
Wichita

High School

West - Home of the Pioneers
In Memory
Merle Edward Gates (Science Teacher And Department Head)
Merle Edward Gates
4 Dec 1916 in Maize, Kansas - 28 Apr 1986 in Wichita, Kansas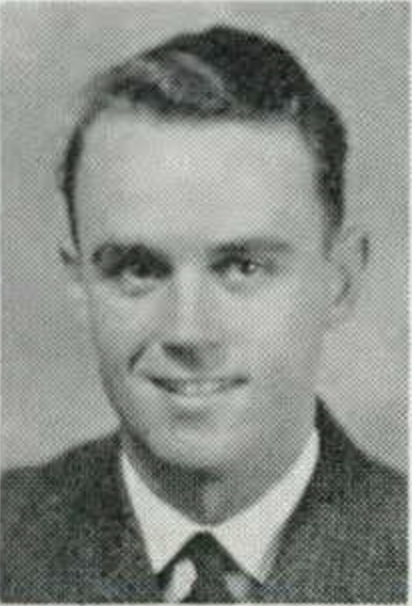 Merle Edward Gates was born on December 4, 1916 in Maize, Kansas to Herbert Leverette and Martha Arline (née Morgan) Gates.

Merle Edward Gates was a man with a mission.
His purpose, through teaching, lecturing and public works, was to share his love of the outdoors and nature with those around him.
Mr. Gates, 69, died Monday. The funeral will be at 10 a.m. today at Blessed Sacrament Church.
DURING 27 years with the Wichita school system, Mr. Gates taught just about every kind of science, first at Mayberry Junior High and later at West High School, said his daughter, Nancy Winters of Wichita.
But teaching was only a part of his mission. He published a book on the deciduous trees of Wichita and reprinted and distributed 150-year-old astronomical charts, both through his own company.
He lectured to different groups all over Wichita and worked to develop science and environmental education programs. One of them was the education program he helped develop at Wichita's Omnisphere, where he also taught full- time after retiring from high school teaching in 1982.
''His enthusiasm and congeniality were very contagious," said Carl Holmes, who directs landscaping and forestry for Wichita parks.
AND THE love of nature extended into his personal life. Fishing was his passion, and he could identify just about any bird or plant he saw, Winters said.
''Since the time he was five and went fishing with his grandfather, he hasn't put down a pole," said his daughter Jane Phares of Midland, Texas.
When the family would go on Sunday drives, Mr. Gates could easily pick out hard-to-find plants as they zipped along at 55 mph, often giving the family their Latin names, Phares said.
''He absolutely loved what he was teaching," Phares said. "My dad truly loved the environment. He was interested in trees, he was interested in flowers, he was interested in rocks . . . everything about the environment he truly loved."
MR. GATES was born Dec. 4, 1916, in Maize. He graduated from North High and Wichita University, and later earned a master's degree at Syracuse University in New York.
He married Mildred Landwehr Aug. 2, 1941, in Wichita.
Mr. Gates is also survived by his wife; a son, Dan C., of Wichita; brothers Herbert, of Augusta, and Leverette, of Norwich, England; and five grandchildren.
A memorial has been established with Botanica-Wichita Gardens.