Class of 1970
Wichita

High School

West - Home of the Pioneers
In Memory
Margaret Mary Née Kelley Bumpas (Home Economics Teacher)
Margaret Mary Kelley Bumpas
2 Jun 1911 in Winfield, Kansas - 15 May 2003 in Hot Springs, Arkansas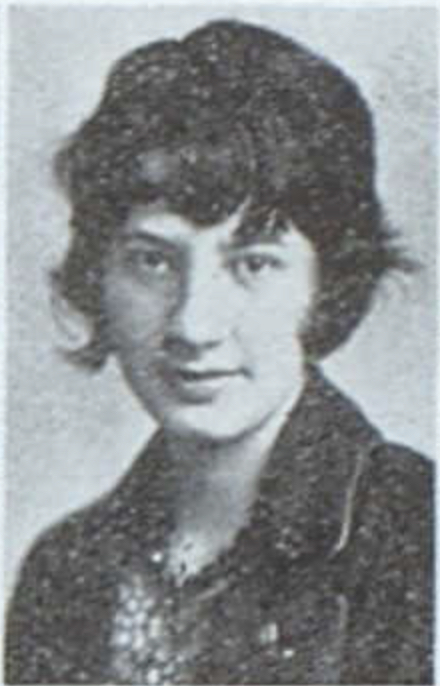 Margaret Mary Kelley was born on June 2, 1911 in Winfield, Kansas to Forrest Aaron and Mary (née Romick) Kelley. She taught home economics at Wichita West from the 1963 - 1964 school year until her retirement in 1973.
Wichita Eagle - May 17, 2003
WINFIELD - Bumpas, Margaret Kelley, 91, retired teacher, died Thursday, May 15, 2003. Memorial service 1 p.m. Sunday, May 18, 2003, First Presbyterian Church, Hot Springs, AR. Interment will be in the Highland Cemetery Winfield, KS at a later date. She was born at Winfield, KS on June 2, 1911, the daughter of Forrest Aaron Kelley and Mary Romick Kelley. On Dec. 27, 1945 she was married to Andrew G. Bumpas, whom preceded her in death in 1976. Her parents, two sisters Harriett Page and Patricia Moreland and one brother, Robert Kelley preceded her in death. She was a Presbyterian by faith and was a member of the Presbyterian churches in Winfield and Derby, KS. She was a high school and college teacher for 38 years, she taught high school in Long Island, New York, Iowa, Missouri, Belpre, Udall, Coffeeville, Lyons, Derby and Wichita, KS; she also taught at Stephens College in Columbia, Missouri.
Survivors: sons and daughters-in-law, Dr. Timothy F. and Helen Bumpas of Hot Springs, AR, Peter and Nancy Bumpas of Derby; grandchildren, Sarah and Andrew Bumpas of Hot Springs, AR and Kelly Bumpas of Lawrence, KS; nieces, nephews and friends. Davis-Smith Funeral Home, Hot Springs.