Class of 1970
Wichita

High School

West - Home of the Pioneers
In Memory
Larry Dean VanPelt (Industrial Arts And Driver's Education Teacher)
Larry Dean VanPelt
20 Aug 1937 in Wichita, Kansas - 9 Jun 2012 in Wichita, Kansas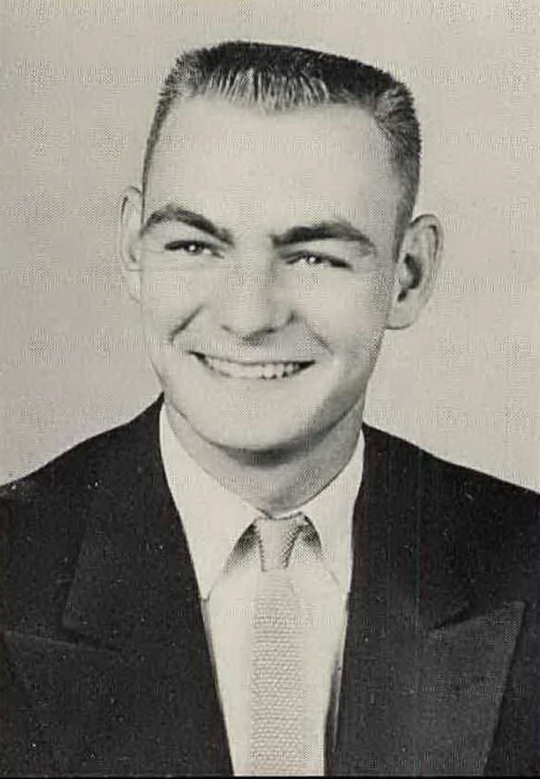 Larry Dean VanPelt was born on August 20, 1937 in Wichita, Kansas to Harry Mahlon and Vivian Faye (née Reynolds) VanPelt. He taught Industrial Arts and Driver's Education at Wichita West from the 1966 - 1967 school year through the 1972 - 1973 school year.
His obituary:
LARRY DEAN VANPELT
August 20, 1937 - June 09, 2012
Larry Dean VanPelt, 74, of Emporia, Kansas, died on June 9, 2012 at St. Francis Hospital in Wichita, Kansas.
Larry was born on August 20, 1937 in Wichita, the son of Harry M. and Vivian Faye Reynolds VanPelt. He married Janis Lovett on February 19, 1977 in Wichita. She survives of the home.
Other surviving family members include: son, Don Andrews of Charleston, West Virginia; stepson, Tom Andrews of Emporia; daughters, Lori Bowlin of Wichita, Becky Black of Wichita, and Sherra Kuestersteffen of Centennial, Colorado; grandchildren, Blaine (Andrews) Barrett, Wesley Dean Andrews, Zachary Andrews, Evan Andrews, Payton Andrews, Michael Kuestersteffen, Erica Kuestersteffen, Sydney Claire O'Donnell, Emily Black, and Kaitlyn Black; and great-granddaughter, Alison Barrett.
He is preceded in death by his parents, brother, Lee VanPelt, and two sisters, Vivian Staggs and Linda White.
Larry spent his working career involved in education. He graduated from Wichita West High School in Wichita in 1956. He received his undergraduate and graduate degrees from Friends University and Emporia State University, and he completed work towards a Doctorate degree at Kansas State University. In the state of Kansas, he held many teaching assignments in the K-12 public school systems of Toronto, Kismet, and Wichita, where he primarily taught Industrial Arts and Driver's Education. He also served as the Director of the State Driver's Education program in Charleston, West Virginia. At the collegiate level, Larry taught classes in the Industrial Arts Program at Emporia State University. He also served as the Transportation Director for U.S.D. #253 in Emporia before he retired.
Larry was a supply sergeant in the Kansas National Guard. He was a longtime member of Friends University Church in Wichita. Camping trips and trout fishing expeditions in Colorado was something that he enjoyed, as well as creating many works of art and furniture from wood and metal materials, and collecting Indian artifacts.
Cremation is planned, with a memorial service to be held at 10:00 A.M., Wednesday, June 13, 2012 at Roberts-Blue-Barnett Funeral Home in Emporia. The service will be conducted by Pastor Bob Colerick of the First Christian Church in Emporia. A memorial has been established to the Lowry-Funston Post #1980, Veterans of Foreign Wars in care of Roberts-Blue-Barnett Funeral Home.