Class of 1970
Wichita

High School

West - Home of the Pioneers
In Memory
Julia Bain Née Eidson Christenson (English Teacher)
Julia Bain Eidson Christenson
25 Apr 1918 in Topeka, Kansas - 2 Dec 2011 in Oklahoma City, Oklahoma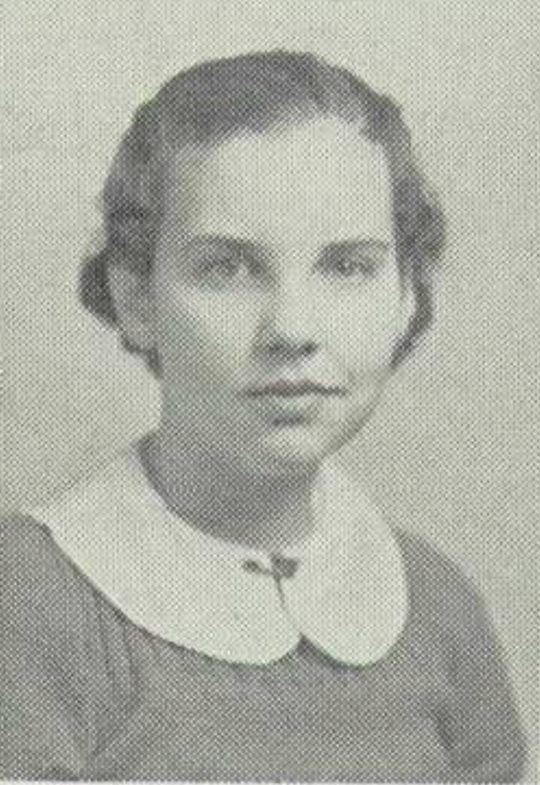 Julia Bain Eidson was born on April 25, 1918 in Topeka, Kansas to Orange Bain and Eliza Agnes (née Ray) Eidson. She taught English at West High from the 1968 - 1969 school year through the 1972 - 1973 school year.
Here is her obituary:
April 25, 1918 - Dec. 2, 2011 OKLAHOMA CITY Julia Bain Christenson, 93, passed away peacefully on December 2, 2011 at home in Oklahoma City, OK. She was born on April 25, 1918 to Bain and Agnes Eidson in Topeka, KS. Julia has been a resident of Oklahoma, Kansas, Virginia, and Illinois at various times in her life. She graduated from the University of Kansas with a B.A. degree and from Central State College with a M.S. degree in Education. Julia was a member of Kappa Alpha Theta Sorority, the Junior League, Rotary Ann, P.E.O., the Christian Women's Organization and the Women's Aglow. She served in a leadership capacity in many of those organizations. Her highest honor was to be a child of God, and she served Him faithfully in ministry at home, Bible college and on the mission field. She loved to read, garden, cook, and she taught many Bible studies over the years. She is highly esteemed by her family and friends and will be greatly missed. Julia was preceded in death by her husband and longtime friend, Bill Christenson; brother, Robert A. Eidson; and sister, Betty Marie Fallin. She is survived by her children, Julia Ann Carruth and husband Bill, Mary Melissa Vernon and husband Bruce; four grandchildren, Kimberly Deleanu, Andrew Carruth, Elizabeth Carruth, and Jeremy Vernon, and their spouses; six great-grandchildren; a sister, Sarah Walton; and many nephews and nieces. Visitation will be held on Monday, Dec. 5th, and Tuesday, Dec. 6th, from 4 to 8 p.m. at the funeral home. Funeral service will be held at 2 p.m. on Wednesday, Dec. 7, 2011, at Vondel Smith North Colonial Chapel. Julia will be buried on Friday, Dec. 9, 2011, at Lakeview Cemetery in Wichita, KS. Memorial gifts may be made to Latter Rain Ministries, PO Box 250, Litchfield, IL 62056.