Class of 1970
Wichita

High School

West - Home of the Pioneers
In Memory
Harold Penfield Brandenburg Jr (Physical Education Teacher And Football Coach)
Harold Penfield Brandenburg Jr
7 Apr 1931 in Columbus, Kansas - 10 Aug 2021 in Wichita, Kansas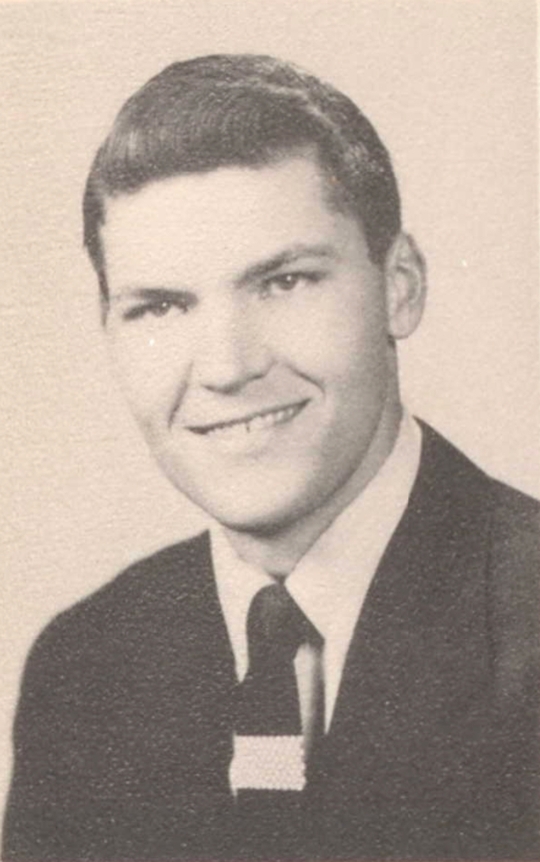 Harold Penfield Brandenburg Jr was born on April 7, 1931 in Columbus, Kansas to Harold Penfield and Macy Alberta (née Nice) Brandenburg. He taught physical education and coached the varsity football team at Wichita West from the 1967 - 1968 school year through the 1969 - 1970 school year.
His obituary:
Harold Brandenburg

April 7, 1931 - August 10, 2021

Wichita, Kansas - Harold Brandenburg, Jr., 90, of Wichita, Kansas was called home on Tuesday, August 10, 2021.

Harold was bon on April 7, 1931 to Harold P. Brandenburg, Sr. and Macy Brandenburg (Nice) in Columbus, Kansas. He married his beloved wife, Nancy (Galbraith), in 1951 in Kansas City, Missouri. They were married for 70 years.

He graduated from Columbus High School in 1949 and embarked on a 4-year athletic journey at Baker University, lettering all four years in football, basketball and track. Sports continued to be his career after graduation as he coached at Erie, Wellsville, Overbrook, Mulvane, Wichita West, Southeast and Northwest, where he ended his coaching career in 1991. While at Mulvane, and his football team was twice voted #1 in Kansas in Class 3A. At Wichita Southeast he coached their 1971 Track and Field team to a Kansas state championship. In 1977 he was an assistant to Coach Jim Davie, whom he mentored early in Jim's career. Together they coached the 1977 Southeast High School football team to the Kansas state championship.

Harold and Nancy enjoyed a long full life together, full of family and pets, sports and travel, enduring friendships and the pursuit of Royal Bayreuth porcelain.
Survivors include his wife Nancy; daughters Janie (Pete) Jacobs and Beth Hallam; sons Hal and John (Beth) Brandenburg; sister Grace Pfeifer; sister-in-law Jean Brandenburg, nine grandchildren and eight great grandchildren. He is preceded in death by his parents, brother Paul Brandenburg and grandson Ryan Brandenburg.

A memorial service at West Heights United Methodist Church, Wichita, Kansas on Saturday, August 14 at 2:00 pm. Memorial contributions may be made to West Heights UMC or The Harry Hynes Memorial Hospice, Wichita, Kansas. Harold's wife and children are especially grateful for the loving care he received from the entire staff of Harry Hynes Memorial Hospice at St. Francis Hospital, Wichita.