Class of 1970
Wichita

High School

West - Home of the Pioneers
In Memory
Lynn Denise Lichty (Gonzales)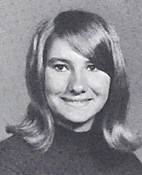 August 6. 1952 - October 24, 2006
Lynn Denise Gonzales: Newspaper Obituary and Death Notice
Daily Times-Call, The (Longmont, CO) - October 27, 2006
Deceased Name: Lynn Denise Gonzales
Aug. 6, 1952 - Oct. 24, 2006 Lynn Denise Gonzales of Lyons died Tuesday, Oct. 24, 2006, at her home. She was 54.
Mrs. Gonzales was born on Aug. 6, 1952, in Omaha, Neb., to R.J. Lichty and Ruth Hargis Lichty. She was raised in Kansas.
She graduated from Wichita West High School. She later attended University of Kansas and Bethany College.
In 1972, Mrs. Gonzales moved from Kansas to Longmont.
She married Manuel Gonzales on Feb. 19, 1975, in Boulder. The Gonzaleses moved to Lyons that same year.
Mrs. Gonzales was affiliated with the Valley Bank of Lyons for the past 17 years.
She will be remembered as a true family woman, as she adjusted her work schedule so she could have time to provide day care for her two granddaughters.
She is survived by her husband; a son, Lukas Gonzales; a daughter, Florentina Eurich and her husband Matt; two granddaughters, Liliana Elota and Daisy Lynn Eurich, all of Lyons; her parents of Wichita, Kan.; two brothers, Richard Lichty and his wife Carolyn of Duluth, Minn., and Michael Lichty and his wife Glenna of Parkville, Mo.
A celebration of life will be held held at 11 a.m. Saturday, Oct. 28, at the Oddfellow"s St. Vrain Lodge No. 102, Lyons, at Fourth and High Street. A gathering and luncheon will follow immediately after at the hall.